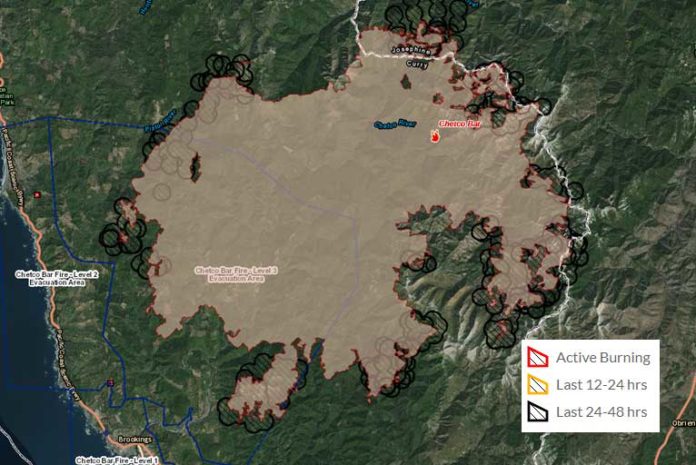 September 5th, 2017, Tuesday, was another day of advancement on all fronts of the Chetco Bar Fire. Another very warm and active day on the fire perimeter which added another 14,257 acres, now bringing the total to 176,770 charred acres. Crews were unable to regain the 5% containment they lost over the last few days, which left the massive blaze at 5% contained.
Strong north, north east winds pushed the fire to the southwest Monday and continued into Monday evening which assisted fire advancement approximately 3.7 miles into the Mt. Emily area with torching and spotting. There was also advancing in the upper Winchuck drainage.
Fire spotted across the Illinois River, and became established on the north side near the Green Wall, while backing and flanking on the east side of the fire had intense surface fire and advanced to approximately half of a mile from Babyfoot Lake.
On Tuesday, the now almost 1700 firefighters will continue suppression efforts to slow or stop fire spread from continued advancement into the Winchuck drainage, and structure protection is expected to continue to be required.
Crews will continue to attempt to re-establish old Biscuit fire dozer lines and continue new line construction. As they build direct and indirect lines where possible, they will also continue to improve roads for future containment spread to the North-Northeast into Oak Flat, Store Gultch, McCaleb's Ranch, and Footbridge.
Aircraft was very active Tuesday with drops in the Northwest and other regions and will continue to be utilized to check fire spread when possible.
A fire weather watch has been put into effect from 7 AM Wednesday morning through 11 PM Wednesday night for abundant lightning on dry fuels. Remnants of Tropical Storm Lidia continue moving northward along the California Coast and has begun spreading moisture into the Chetco Bar Fire area. Temperatures have dropped several degrees and humidity has begun increasing, with this trend continuing through Thursday.
As moisture becomes more abundant today and Wednesday clouds will increase with a chance of thunderstorms Wednesday afternoon through Thursday morning. Rain showers are a possibility Thursday afternoon and evening. Officials are concerned that the thunderstorms that develop will bring lightning, along with gusty and erratic winds. There is a 10% chance of wetting rain Wednesday and Wednesday night, increasing to 20% on Thursday. Overnight humidity recovery will rise to 40% or greater Wednesday night through Friday.
Curry County Sheriff and Josephine County officials will continue to monitor evacuation levels while the Oregon State Fire Marshal Task Force continues structure evaluation and preparation.
As of this update, all previous evacuation levels remain unchanged and intact. This includes a Level 3 evacuation order for all residents on Illinois River Road within the US Forest Service Boundaries and the Oak Flat Community.
The Level 3 Evacuation Order which included all areas along Carpenterville Road north of the Cape Ferrelo Road intersection to the Carpenterville Road and Bosley Butte Road intersection.
Thursday evenings expanded Level 2 Evacuation Order which included all areas along Winchuck River Road east of, and including Peavine Ridge Road.
An additional emergency evacuation shelter has been prepared for displaced residents at the Nazarene Church located at 1600 Chetco Avenue, Brookings, Or. (541)-600-6068.
The Tolowa Dee-ni' Nation is now operating a shelter at The Xaa-wan'-k'wvt Village & Resort (old Ship Ashore) RV Park located at 12370 Highway 101 North in Smith River.
In the Gold Beach area, the Red Cross has moved its emergency evacuation shelter from the Riley Creek Elementary school in Gold Beach TO THE CURRY COUNTY FAIRGROUNDS SHOWCASE BUILDING AT 29392 ELLENSBURG AVENUE.
Residents are encouraged to monitor the interactive evacuation map for changes: http://arcg.is/2vWQN2N